While I am very much into cooking my own food, going out and enjoying what others have cooked up for my consumption is something I'm very fond of as well. Of course, it does cost the equivalent of money, so if you don't have any, home cooking might be a better solution for you.
If you do indeed have scraped together enough dough to be able to buy yourself some food and drink, here's a place you should visit: Augustin. Set in a rather shabby part in a rather shabby district of Vienna (well, it's true. It just isn't really pretty, that district), Augustin is a great surprise. Not only does its exterior work hard on betraying the splendid interiour, the food is also quite delicious and plentiful.
Decked out in Biedermeier sofas, chandeliers, sturdy wooden tables and loads of candles, Augustin is as cozy as it can get. The fact that almost every night there's a chap playing the piano, only adds to the undeniable charm of the place.
Foodwise I opted for nothing less than a Bauernkotelett (farmer's cutlet), which consisted of tender grilled pork, covered in loads of roasted onions, with fried potatoes, little cubes of bacon and pole beans on the side: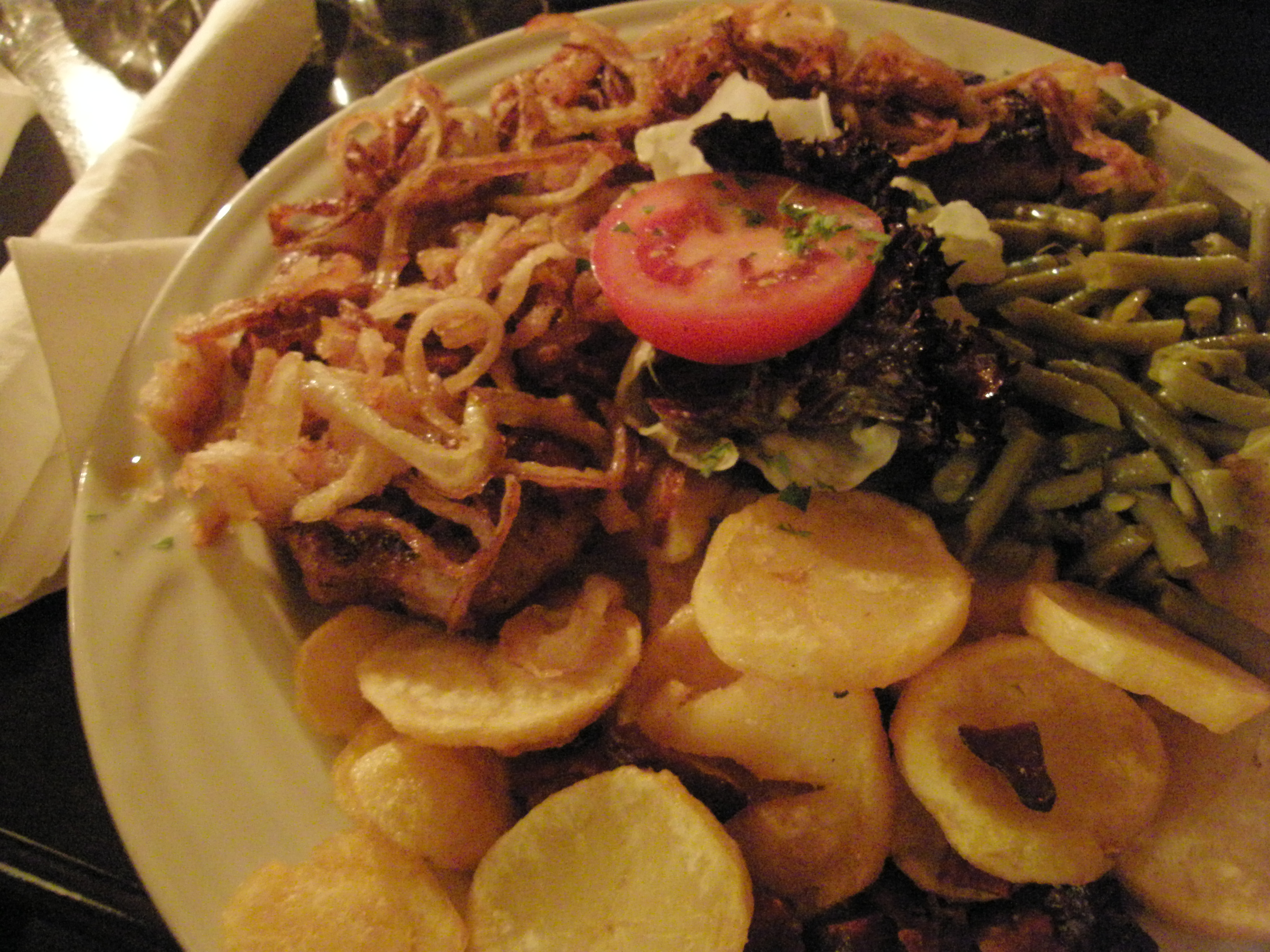 The only problem with the cozy interior of Augustin is, that sitting on a sofa as soft as the one we sat on, means, that your food sits somewhere on eye level, which makes it a tad difficult to eat (having been confronted with that dire situation myself, here's a trick that actually works: simply sit on a chair for the duration of the meal!).
Here's just a small thing I'd like for the owners to do. Update your website! While I think your Bauernkotelett was worth every single cent I paid for it, advertising your food roughly three Euros cheaper than it actually is, may be frowned upon by people less lenient than me! EDIT: New website up!
Anyway, I absolutely recommend going to Augustin, especially round eight, when the pianist will be playing one of his tunes, while you, stuffed with most exquisite Austrian foods, can recline on a sofa with cigarette in mouth and beer in hand.
Augustin is located in the 15th district, Märzstraße 67, a three minute walk from the U3 station Johnstraße.