Before I go on about my latest foray into delicious restaurant cuisine, I must admit that even though announced in my latest blogpost, I didn't make it to the Biocamp. Sickness (which somewhat still has its grip on me) had me reschedule from tasting all sorts of fantastic organic (ok, and listening to people talk about it) to spending the day in bed instead (relying on a diet that consisted mainly of camomile tea). From what I heard, fun was had nevertheless, even without my presence. But, enough of that, let's move on.
Last Friday I was on a business trip that took me to Belgrade (listen to me, writing about "being on a business trip" as if it's the most ordinary thing in the world). As business trips have it, we also had lunch, and landed in an interesting restaurant on Belgrades Beogradska named "The Corner Restaurant" (before you ask, yes, it's actually a corner restaurant).
The interior was decked out mostly in black and even though it suggested upscale, the people were friendly and the place cozy. The best of both worlds!
Anyway, I opted for something that on the English menu was named "Little Gourmet's Dish", which was a gross understatement, since it wasn't exactly little: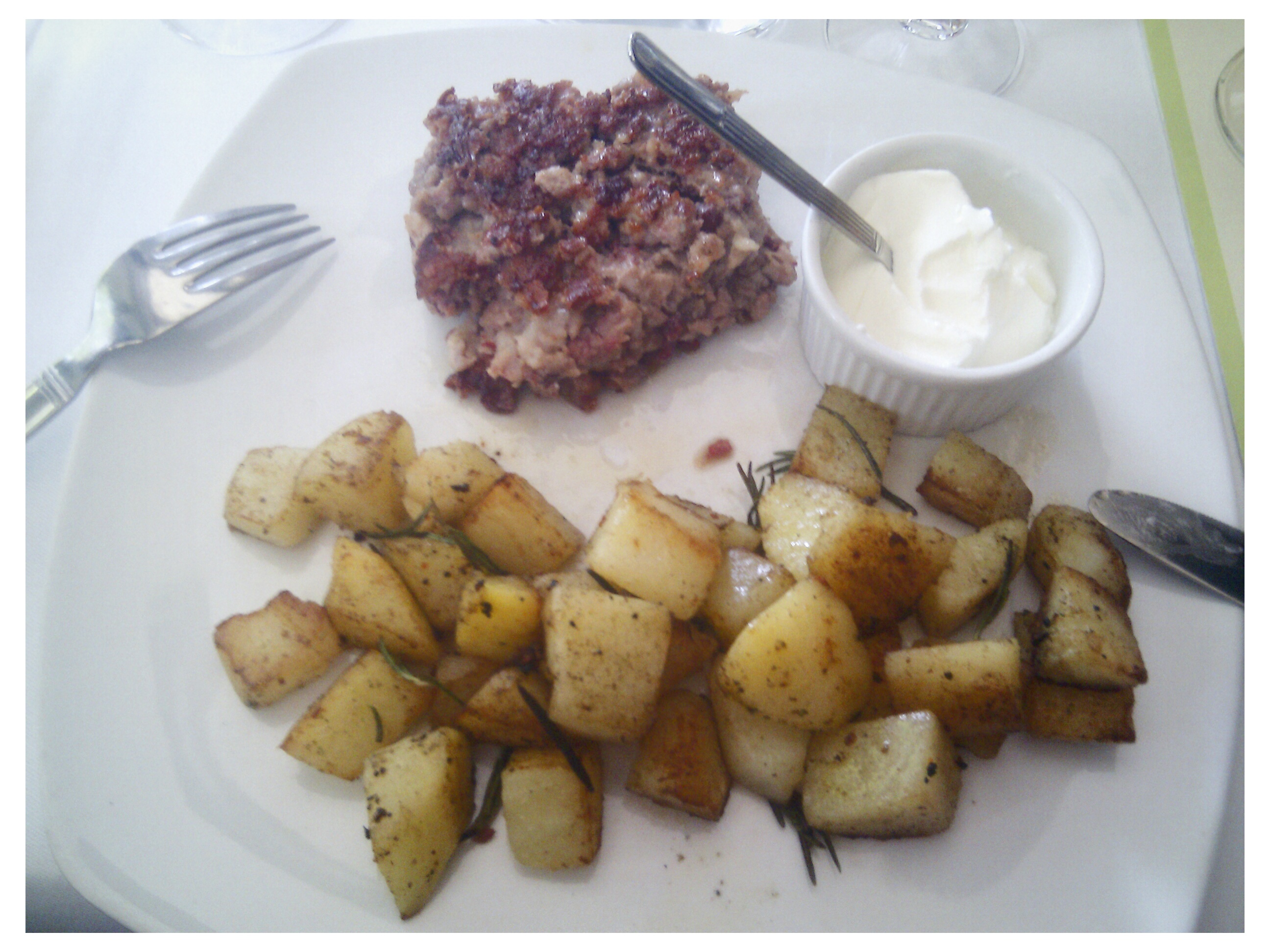 What you see above are perfectly roasted potatoes with a smattering of rosemary. The meat was ground up pork fillet mixed with little pieces of bacon (what's not to like about meat with meat?), then thoroughly seared. In addition, they served goat's cheese, which blended surprisingly well with the meat.
If I hadn't been half sick then already, I'd surely managed to eat it all, but I was forced to give away a sizable piece of that delicious meat and leave some of those scrumptious potatoes behind.
Now, I'd like to supply you with an address of the place, but I must admit, I forget to jot the exact address down (Google Maps, usually an infallible helper in these cases, isn't doing any good here either). All I know is that it's in Beogradska road in Belgrade. You'll just have to ask your way through. It'll be worth it!
Edit: Thanks to Stefan, here is an address, complete with pictures of the place.
By the way, I have yet to figure out why the cow on their menu has "whatever" written on its body.